In our new house, the bathroom is the ugliest room. I seriously don't know what they were thinking:
Look at it! Pink and black wall tile, with black and white floor tile and brown paint??? And don't even get me started on that sink...which is also my "vanity"...
So last night, Hubby and I were at Lowe's checking out this awesome new tile paint (I'll have to do a whole seperate post on that) and we decided to investigate the sinks, because CLEARLY this one is going to be replaced soon. As we walked through the sink aisles, the majority of them were the vessel sinks...which are very in style right now.
Here are a few I wouldn't mind putting in our bathroom when we remodel it...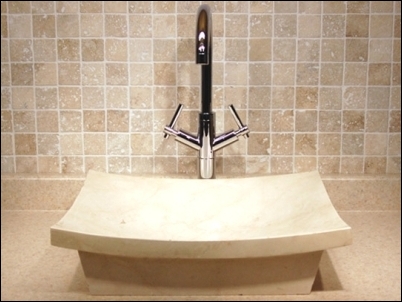 Oh I LOVE all of these!!! I seriously hope this trend sticks around for a long time! And look at all that extra vanity space I'd get :)